"if you acquire a Border Terrier puppy,
you can't know for sure what he or she will grow up to be like.
Because a good number of purebred puppies do NOT grow up to conform to the "norm"".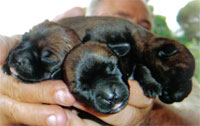 Puppies of any breed is cute and the choice is always a difficult one when choosing a family pet.
Blamich aims to help you select the perfect puppy with hte guidelines on this page.
Also keep in mind that we screen prospective buyers as we want to ensure that
Blamich puppies are placed with homes that carries their best interest at heart.

LITTER SIZE
Blamich carries about 2 litters per year, of 4- 6 puppies. They are all very quickly adopted so be sure to add your name to the guestlist to ensure you are in time for the next adoption.
ADOPTION AGE
Puppies are adopted between 8-9 weeks and can be collected from Blamich premises OR they can also be air lifted to the closest big centre of their new owners (for them to settle the costs).
COLOURING
All the puppies are black and look alike when they are born. From about 5 weeks one can see a red grizzle, or a grizzle of any other colour. Colours are not guaranteed though, and coats could change colour up to 2 years.